A WHOLE NU YOU

NuBra - handmade since 2002
Discover NuBra, the original, backless, strapless, adhesive bra
A WHOLE NU YOU
NuBra - handmade since 2002
Discover NuBra, the original, backless, strapless, adhesive bra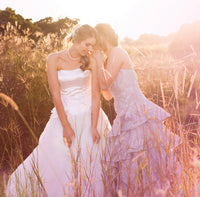 NUBRA — TRUSTED BY BRIDES (AND BRIDESMAIDS) SINCE 2002
Over 15 years ago, Bragel designed and patented the very first NuBra, making them the original, trusted wedding bra for every type of wedding fashion - providing support, comfort, and just the right amount of enhancement.
Only NuBra provides the dependability that takes you from that big moment, to dancing the night away with confidence. 
Be sure to take along a selection of NuBra products to wear on your honeymoon. You'll have a totally NU FREEDOM for strapless styles, off-the-shoulder looks, halter tops and more. 
Whatever your style, NuBra has the most complete selection of styles to suit your needs - Seamless, real feel Silicone, Push Up, Padded, low cut.